Calculation of the HLB – How to choose an emulsifier?
For most non-ionic emulsifiers, the HLB value can be calculated based on their theoretical composition or more accurately, based on analytical data. The theoretical composition can in fact only lead to approximate HLB values because the chemical classification is often only an approximation of the actual composition. The data obtained from an analysis of the surfactant are usually the best basis for determining the HLB. If ethylene oxide is the only component of the hydrophilic part of the emulsifier, the HLB can be calculated using the following formula:
HLB = E/5
 where E = percentage of ethylene oxide.
For emulsifiers made up of esters, fatty acids and polyols the formula is
HLB = 20 (1 – S/A)
where S = saponification value and A = acidity value of the fatty acid.
For example, for Polysorbate 20: HLB = 20 (1 – 45.5/276) = 16.7
When two or more emulsifiers are mixed together, the HLB value of the mixture can be easily calculated. For example, for a mixture containing 70% Polysorbate 80 (HLB = 15.0) and 30% Sorbitan oleate (HLB = 4.3) the HLB value is obtained in the following way:
Polysorbate 80 70% x 15.0 = 10.5
Sorbitan oleate 30% x 4.3 = 1.3
HLB of the mixture = 11.8
In the following table some of the more representative emulsifiers are listed in order of increasing HLB.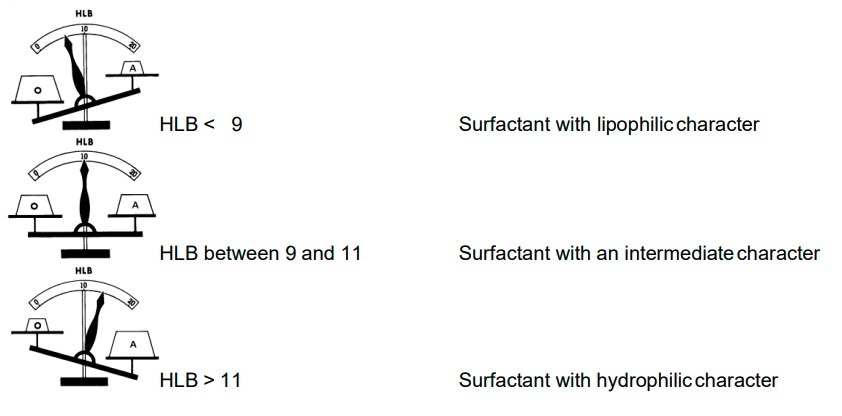 | | | |
| --- | --- | --- |
| Greengredients® products | INCI name | HLB |
|   | Glycol Distearate | 1 |
|   | Sorbitan Trioleate | 1.8 |
|   | Propylene Glycol Isostearate | 2.5 |
|   | Glycol Stearate | 2.9 |
|   | Sorbitan Sesquioleate | 3.7 |
|   | Glyceryl Stearate | 3.8 |
|   | Lecithin | 4 |
|   | Sorbitan Oleate | 4.3 |
|   | Sorbitan Monostearate | 4.7 |
|   | Sorbitan Stearate | 4.7 |
|   | Sorbitan Isostearate | 4.7 |
|   | Steareth-2 | 4.9 |
|   | Oleth-2 | 4.9 |
|   | Glyceryl Laurate | 5.2 |
|   | Ceteth-2 | 5.3 |
|   | PEG-30 Dipolyhydroxystearate | 5.5 |
|   | Glyceryl Stearate SE | 5.8 |
|    SESAMULS® WO | Polyglyceryl-6 Pentaoleate, Sesame Oil, Malic Acid | 6 |
|    OLEAMULS® WO | Polyglyceryl-6 Pentaoleate | 6 |
|   | Sorbitan Stearate (and) Sucrose Cocoate | 6 |
|   | PEG-4 Dilaurate | 6 |
|   | Methyl Glucose Sesquistearate | 6.6 |
|   | Lecithin | variable |
|   | PEG-8 Dioleate | 8 |
|   | Sorbitan Laurate | 8.6 |
|   | PEG-40 Sorbitan Peroleate | 9 |
|   | Laureth-4 | 9.7 |
|   | PEG-7 Glyceryl Cocoate | 10 |
|   | PEG-20 Almond Glycerides | 10 |
|   | PEG-25 Hydrogenated Castor Oil | 10.8 |
|   | Stearamide MEA | 11 |
|   | Glyceryl Stearate + PEG-100 Stearate | 11 |
|   | Polysorbate 85 | 11 |
|   | PEG-7 Olivate | 11 |
|    OLEAMULS® WS | Polyglyceryl-6 Oleate | 11 |
|   | Cetearyl Glucoside | 11 |
|    OLEAMULS® LOW | Polyglyceryl-6 Oleate, Potassium Olivate | 11.5 |
|   | PEG-8 Oleate | 11.6 |
|    SESAMULS® OW | Polyglyceryl-3 Cetyl Ether, Sesamum Oil, Malic Acid | 12 |
|    OLEAMULS® OW | Polyglyceryl-4 Stearate, Potassium Olivate | 12 |
|   | Polyglyceryl-3 Methyglucose Distearate | 12 |
|   | Oleth-10 | 12.4 |
|   | Oleth-10/Polyoxyl 10 Oleyl Ether | 12.4 |
|    AVOMULS® LOW | Polyglyceryl-4 Isostearate, Persea Gratissima (Avocado) Oil, Olea Europaea (Olive) Oil Unsaponifiables | 12.5 |
|   | Ceteth-10 | 12.9 |
|   | PEG-8 Laurate | 13 |
|   | Cocamide MEA | 13.5 |
|    POLYSOL® PGA | Polyglyceryl-6 Caprylate, Aqua, Proline | 14.5 |
|   | Polysorbate 60 | 14.9 |
|   | Polysorbate 80 | 15 |
|   | Isosteareth-20 | 15 |
|   | PEG-60 Almond Glycerides | 15 |
|   | Polysorbate 80 | 15 |
|   | PEG-20 Methyl Glucose Sesquistearate | 15 |
|   | Ceteareth-20 | 15.2 |
|   | Oleth-20 | 15.3 |
|   | Steareth-20 | 15.3 |
|   | Ceteth-20 | 15.7 |
|   | Isoceteth-20 | 15.7 |
|   | Polysorbate 20 | 16.7 |
|   | Laureth-23 | 16.9 |
|   | PEG-100 Stearate | 18.8 |
|   | Steareth-100 | 18.8 |
|   | PEG-80 Sorbitan Laurate | 19.1 |