Vegetal derived complex for restructuring hair fibers and salt linkages damaged by chemical and mechanical treatments.
Ask for a sample
Performance
Repairs Damaged Hair
Reduces Split Ends
Closes The Cuticles
Reduces Fly-Aways
Makes Combing Easier
Innovative
Achieves the same performances of Olaplex, while being completely natural
Natural
Readily biodegradable and Safe for the environment, it comes from upcycled raw materials
Certified
From patented technology, it's COSMOS and Natrue approved, Palm-free, Vegan and Halal compliant
  Greenplex vs Olaplex?
Achieves same performances!
GREENPLEX® treatment reduces combing force (-23%) and electrostatic effect (-60%) in damaged hair.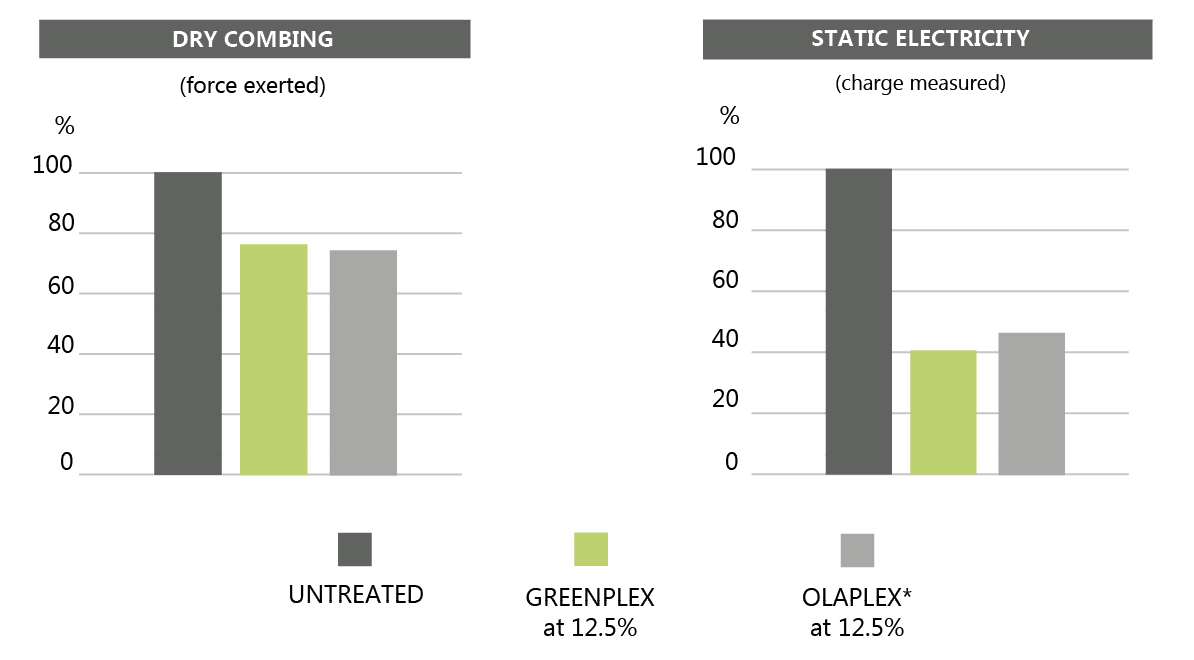 Stronger and more elastic!
Elasticity is the hair's ability to stretch and return to its original shape. It could be considered a measure of the protection of hair protein and moisture.
The elastic modulus is a measure of the stiffness of the fiber: a decrease in the modulus indicates an increase in fiber elasticity.
8% GREENPLEX® aqueous solution applied to heat damaged hair was found to significantly decreases the elastic modulus by 10.3% compared to the untreated group which means an improvement of the elasticity.
Elastic Modulus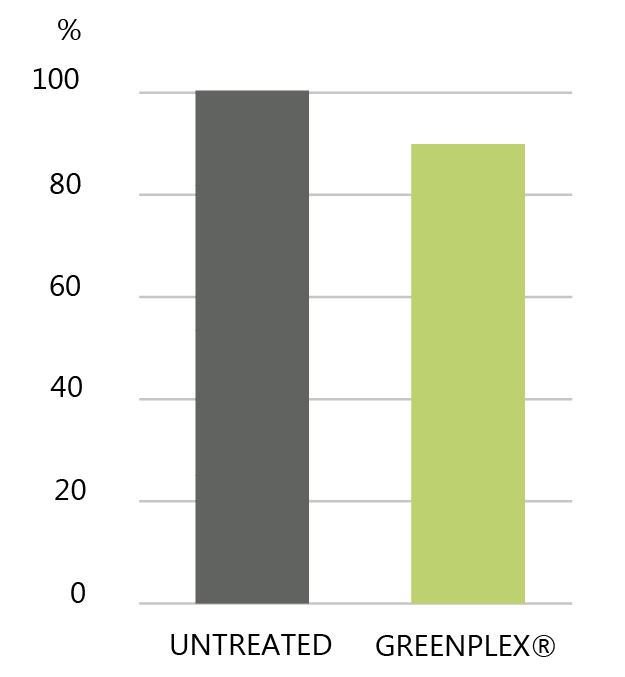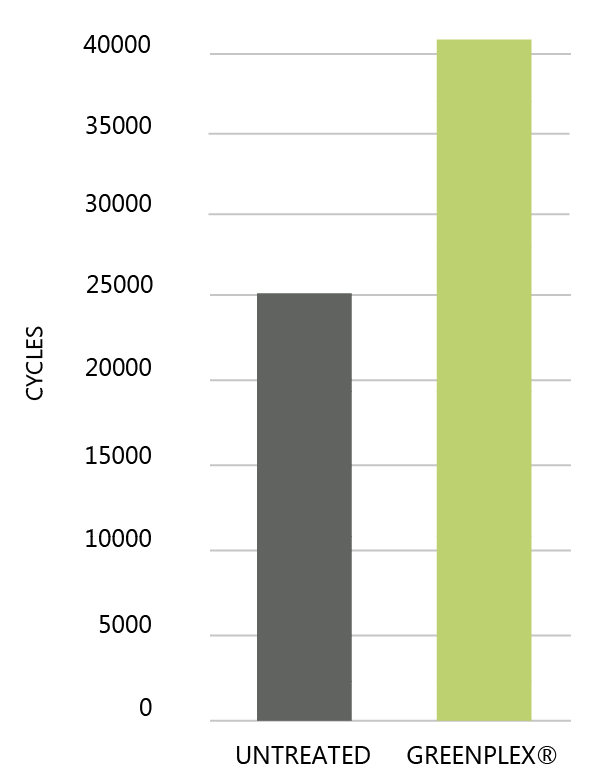 Cyclic fatigue provides an indication of dynamic strength or fatigue behavior in which a higher number of cycles to break indicates a stronger fiber. 
8% GREENPLEX® aqueous solution applied to damp high curl type hair significantly (p<0.05) increases the mean number of cycles to break by 55.6% compared to the untreated group.
Smoothness, damage prevention and repairing action
Frictional properties determine how the hair feels to the touch, how it combs and styles as well as its manageability.
GREENPLEX® treatment significantly reduces dry friction in damaged hair if leaved-on as well as rinsed off.
GREENPLEX® reduces by 79% and 75% in leave-on and rinseoff treatment the friction force, claiming smoothness, damage prevention and repairing action on hair.
Dry Friction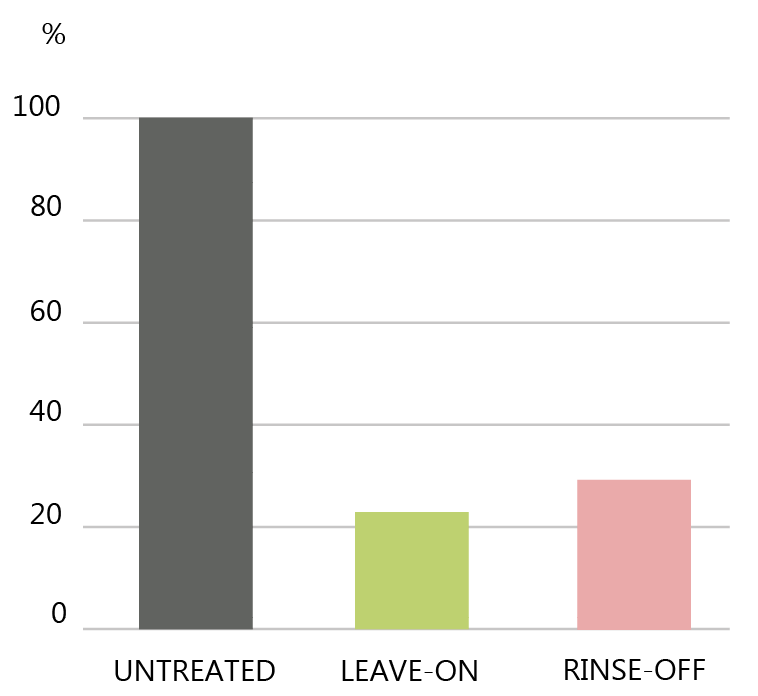 Improves cuticles scales alignment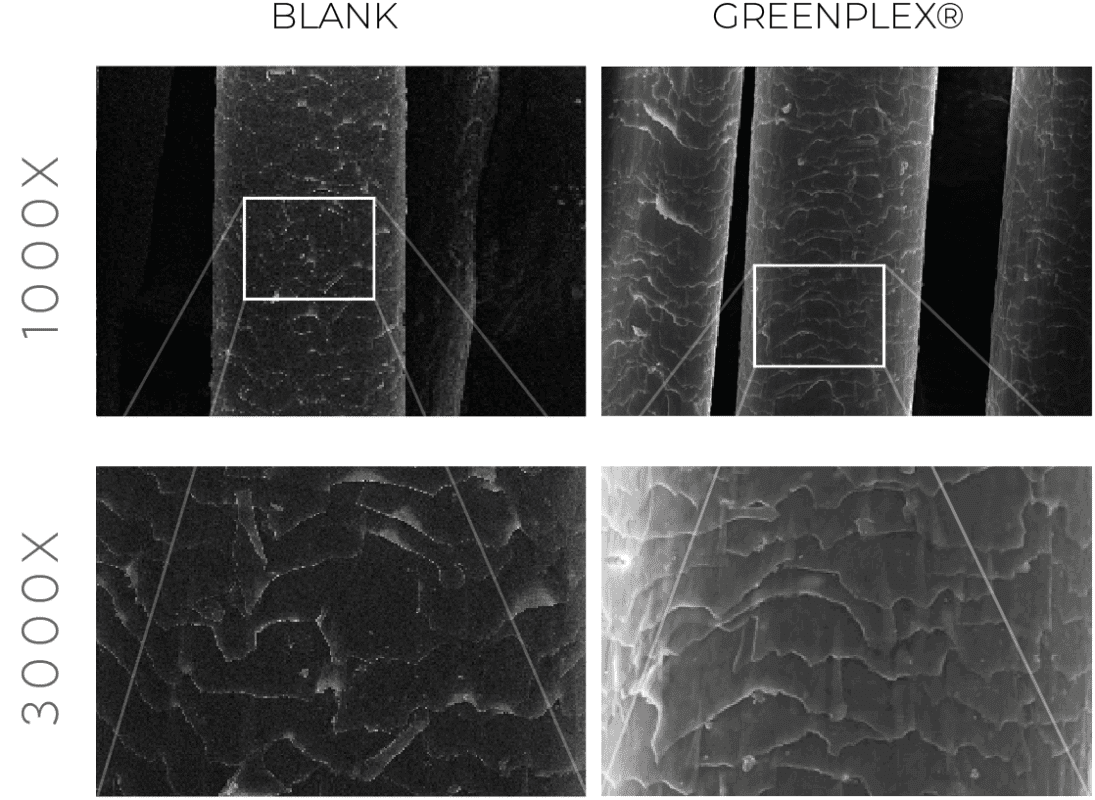 To explore in depth the effect of GREENPLEX® treatment, hair has been bleached twice leading to heavily damaged and almost deprived cuticles, with the scales very open and irregular.
FE-SEM images show that GREENPLEX® treatment greatly improves compactness of the scales and adherence to the hair shaft with cuticles less raised and jagged.
The picture shows drops of GREENPLEX® treatment (highlighted by white rectangles) as filming agent covering the surface of the hair.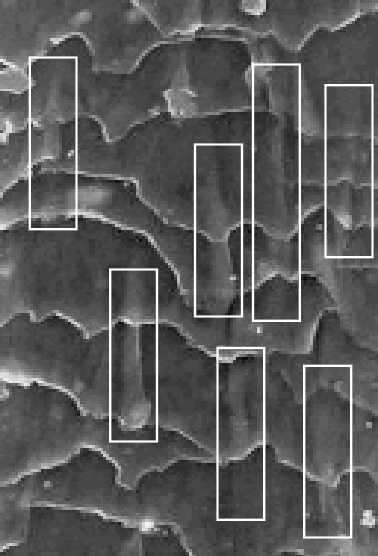 Reduction of chemical treatments residues
Healthy hair with Greenplex!
Fig. 1 shows the normalized concentrations of copper, magnesium, sodium and potassium salts in bleached hair.
GREENPLEX® decreases inorganic salts content compared to blank group present in hair bleaches and coloring preparations.
Fig. 1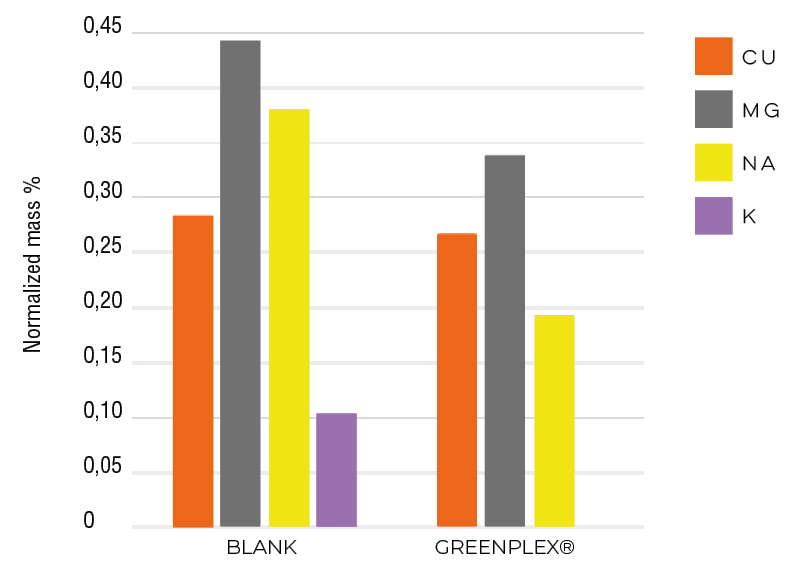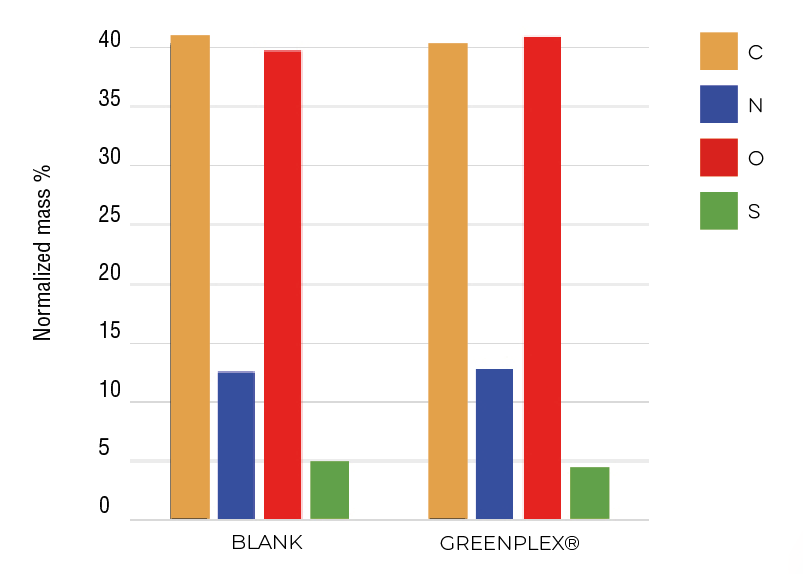 Figure 2 shows the concentrations of the main non-metallic elements in bleached hair. Of note is sulfur, given its presence in hair keratin as sulfur amino acids.
Data show no significant variation between groups meaning that GREENPLEX® treatment does not modify the elements composition thus hair is not denaturalized.
Penetration in hair cuticles
To verify the penetration of GREENPLEX® inside hair structure, copper salts have been used given the ability of Copper iones to make coordination complex with bound molecules. For this reason, hair tresses have been treated with Cu salts alone or in combination with GREENPLEX®.

The EDX spectra recorded on hair sections, showed the presence of copper salts in particular when complexed to GREENPLEX® compared to the Cu solution alone thus indicating that GREENPLEX® is able to penetrate hair structure.
Copper % (W/W)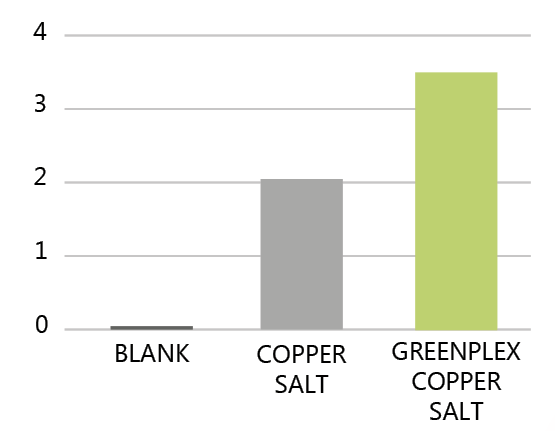 Regaining compactness
FE-SEM shows that the damage caused by bleaching on the surface and in the internal part of the shaft has been recovered by GREENPLEX® treatment.
Untreated