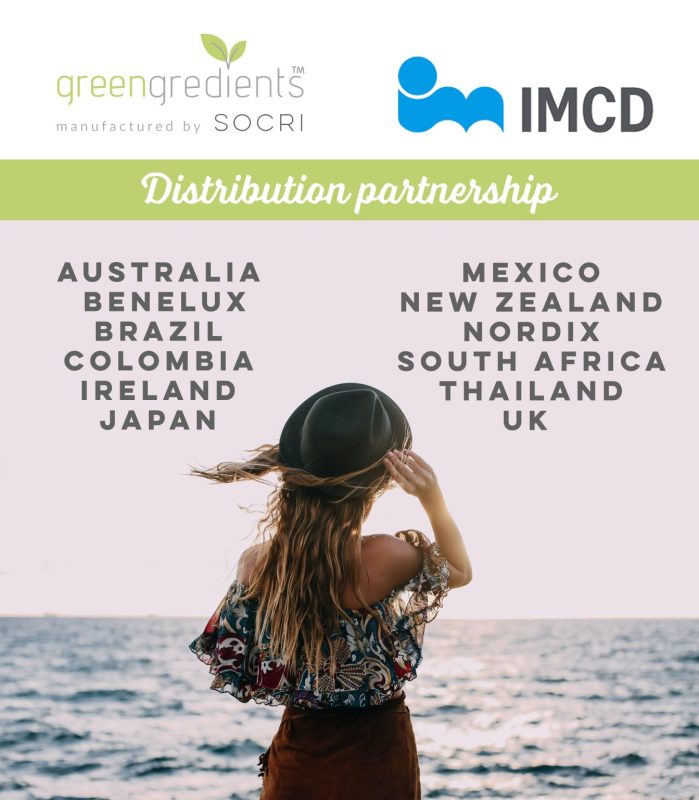 Today, we are pleased to announce that IMCD Group is our new distribution partner for Benelux, Colombia, Mexico, the "Nordics", South Africa, UK, and Ireland, following successful cooperation in Australia, Brazil, Japan, New Zealand, and Thailand since 2020.
"I am delighted to expand our collaboration with SOCRI. Their offer in natural & sustainable ingredients, both in Actives & Functionals, is perfectly matching with our strategy and with customer needs".

Irene Cantos Gaceo, Director Beauty & Personal Care, IMCD Group.
SOCRI S.p.A., through the GreengredientsTM division, researches and develops a full range of upcycled green innovations, COSMOS and NATRUE Approved, with Naturality Index 1. Actives & functionals ingredients that will help you design the sustainable Beauty products of tomorrow in Skincare, Hair Care, Suncare, Cleansing, and Color Cosmetics.
IMCD is ready to support you in your formulation developments. IMCD teams collaborate with Dr. Guido Bregaglio, one of the main experts in green chemistry applied to cosmetics, who's leading SOCRI's Greengredients Technical Center. Get in contact with your IMCD representative!