Test #1 – Moisturizing Properties SESAMULS OW
Modern emulsifiers are expected to deliver multiple benefits, not only should they efficaciously stabilise emulsion, Formulators want them to have an appealing sensorial profile and deliver skin claims, i.e. hydration and moisture. The following study will prove that SESAMULS© OW have outstanding hydration properties.
STUDY TO EVALUATE HYDRATION PROPERTIES
Test 1
| | | |
| --- | --- | --- |
|    INGREDIENT | Cream A | Cream B |
|    Sunflower Oil | 20.0 | 20.0 |
|    Water | 75.0 | 75.0 |
|    SESAMULS© OW | 5.0 | – |
|    Comparative emulsifier  | – | 5.0 |
|   Citric Acid (to pH 5.5) | q.s. | q.s. |
Preparation of a simple oil-in-water emulsion (hot-hot method), stabilized either with SESAMULS© OW or with comparative emulsifier (Cetearyl Alcohol, Cetearyl Glucoside).
Ingredients that could have a positive effect on skin hydration levels were purposely avoided in order to be able to attribute differences in skin hydration levels to the different emulsifiers utilized.
RESULTS
Corneometer measurements were taken at 6 time-points over 24 hours (before product application and 0.5, 1, 2 and 24 hours post product application) on 30 female volunteers aged between 35 and 65 (mean 52.3). Treated and untreated sites were measured on the volar forearm. Three measurements were performed on each are and the mean is used to define the hydration state of the stratum corner.
Results are reported in the following graph.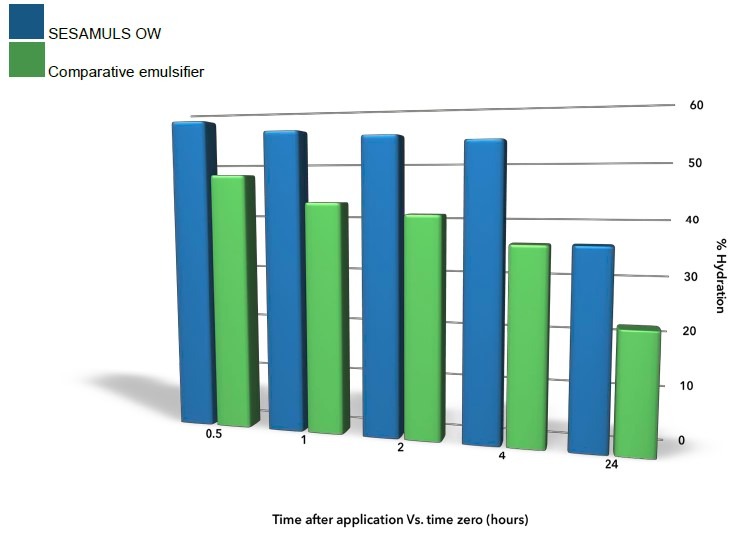 SESAMULS© OW shows significantly higher results when compared to comparative emulsifier throughout the 24 hours of the test period. It shows a plateau in hydration between 0.5 and 4 hours with variations that do not result statistically significant.
Comparative emulsifier shows a significant decrease in hydration after 4 hours. Both samples show a significant decrease in hydration after 24 hours, however SESAMULS© OW shows results that are significantly higher than those achieved by comparative emulsifier.