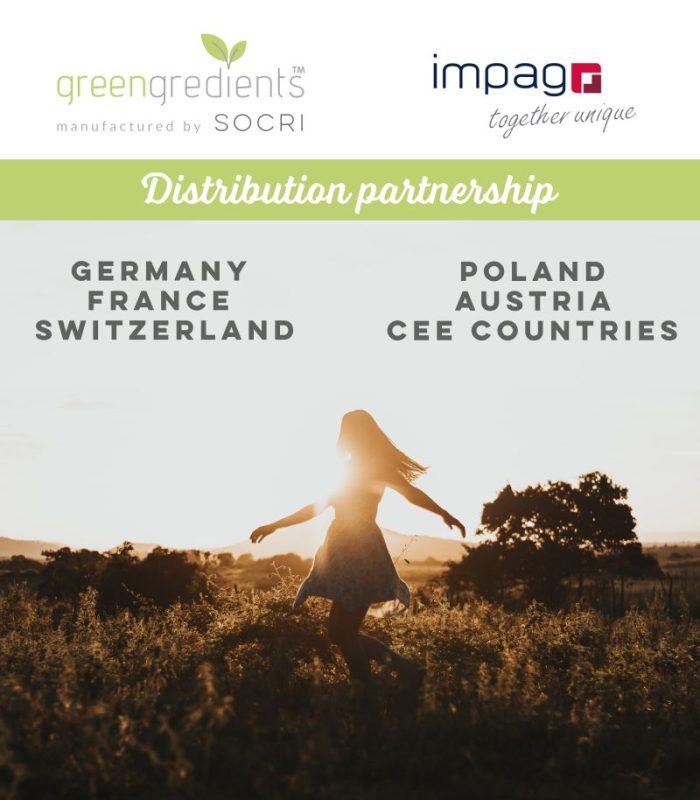 We are pleased to announce that IMPAG France is our new distribution partner for France, following successful cooperation in Switzerland, Germany, Poland, Austria, and CEE countries.
"Nous sommes très heureux de cette nouvelle collaboration avec le fabriquant d'ingrédients italien SOCRI S.p.A Des solutions techniques, naturelles qui correspondent tout à fait au portefeuille IMPAG France. Nos clients français ont montré un fort enthousiasme à la présentation Webinaire Socri réalisée récemment par Emille Bertholet et Marine Rousseau! Forza Italia !! 🙂 "

Jean-Bastien Duchâteau, Business Unit Director, IMPAG France.
SOCRI S.p.A., through the GreengredientsTM division, researches and develops a full range of upcycled green innovations, COSMOS and NATRUE Approved, with Naturality Index 1. Actives & functionals ingredients that will help you design the sustainable Beauty products of tomorrow in Skincare, Hair Care, Suncare, Cleansing, and Color Cosmetics.
Impag is ready to support you in your formulation developments. Impag collaborates with Dr. Guido Bregaglio, one of the main experts in green chemistry applied to cosmetics, who's leading SOCRI's Greengredients Technical Center.